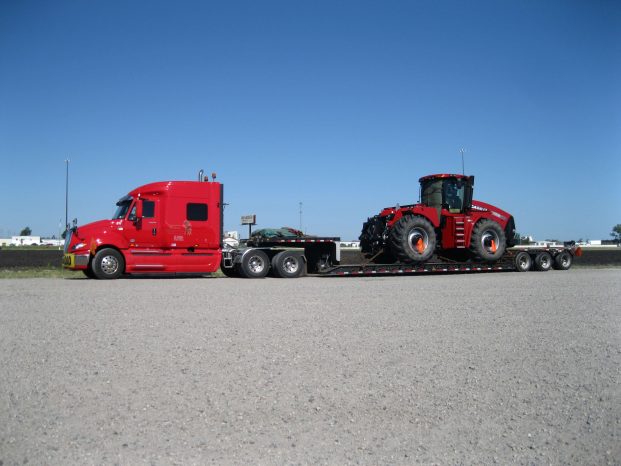 Coast-to-Coast Trucking in Waterville, QC
It is our primary goal to provide you with excellent coast-to-coast trucking service, along with competitive industry prices. We take pride in our customer service and work hard to keep it the best in the business. We aim to make ourselves available to our customers, both current and future, at all times. It is our job to make your end of the business as easy and as stress-free as possible when you're in Waterville, Compton, Quebec, North Hatley, and Compton Station, QC.
At Brave Transport Inc., we have fundamental values that we abide by to help us execute our vision and bring your high-quality long-haul trucking and flatbed trucking service.
Reliability: Our service is consistent and dependable, and always of high quality. This applies both to our drivers delivering your freight and our office staff whom which you will deal with when you call us!
Integrity: We take great responsibility and pride in all of our work and services, and we are always honest in your business transactions.
Customer-Oriented: Our customers are top priority, as we are committed to facilitating your end of the business and helping you achieve optimal performance.
Expertise: Our team has extensive knowledge and expertise in the transport field, which ensures your freight will be in good hands at all times.
At Brave Transport Inc., we offer a variety of long-haul transport services that range from shipping regular freight to shipping over-sized freight throughout the North American continent. We can move anything you need us to, from heavy machinery to over-dimensional loads to LTL.
Each of our long-distance freight transport trucks come fully equipped with GPS tracking systems which not only serve beneficial to our employees, but also help us track our drivers and your deliveries. Using the tracking system, we are able to locate your freight at any given time, and provide you with up-to-the-minute status updates of your delivery, as well as accurate pick-up and drop-off estimates. Contact us today to learn more.
Our available equipment consists of:
Flat Bed
⦁ Length: 48' or 53' / Width: 8'6" / Height: 8'6" / Max Weight: Varies (Canada / U.S.)
Drop Deck (Step Deck)
⦁ Bottom Deck – Length: 37' – 42' / Width: 8'6" / Height: 10' / Max Weight: Varies (Canada / U.S.)
⦁ Top Deck – Length: 10 ' – 11' / Width: 8'6" / Height: 8'6"
Low-Profile Step Deck
⦁ Bottom Deck – Length: 37' – 42' / Width: 8'6" / Height: 11' / Max Weight: Varies (Canada / U.S.)
⦁ Top Deck – Length: 10' – 11' / Width: 8'6" / Height: 9'6"
Double Drop (RGN)
⦁ Bottom Deck – Length: 28'' – 29'6" / Width: 8'6" / Height: 12' / Max Weight: Varies (Canada / U.S.)
(**Front of trailer detaches, to allow machinery to be driver straight onto the bottom deck**)
⦁ Front Deck – Length: 10' – 12' / Width: 8'6" / Height: 8'6"
⦁ Rear Deck – Length: 8' – 13' / Width" 8'6" / Height: 10'
Dry Van
⦁ Length: 48' or 53' / Width: 8'5" / Height: 8'6" – 9'2" / Weight: Varies (Canada / U.S.)
Roll-Tite / Conestoga (similar to van, but with accordion tarp system – ideal for side or crane loading)
⦁ Length: 48' or 53' / Width: 8' – 8'5" / Height: 8'6" – 9'2" / Weight: Varies (Canada / U.S.)
**Specialized Equipment: We have customers who have large orders that may require a longer deck, multiple axles, higher dimensions, etc. We have access to additional equipment upon request**