WHO WE ARE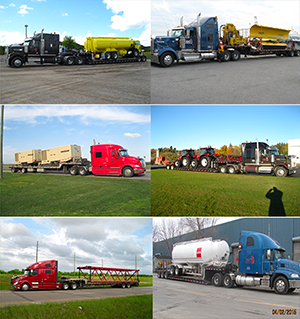 Brave Transport Inc. was founded in 2010 by Randy Vintinner, whom at the time had over 25 years of trucking experience under his belt and decided it was time to start a transportation company of his own. It all started with one company truck, two owner-operators and a small office in Lennoxville, QC. It wasn't too long after that Brave Transport Inc. moved into a brand new building with a big yard to park their growing fleet. The company was quickly starting to make a name for itself in the over-dimensional freight industry.
With every intention of making Brave Transport Inc. a family business, Randy's son and daughter joined the company in 2010, each bringing their own knowledge and skillset to the table. Stephanie specialized in the accounting and bookkeeping end of the business, whereas Ryan spearheaded sales and business development. Together, Brave Transport Inc. consisted of a highly-efficient team that reflected its family values on everyday operations.
Today, we've made hundreds of connections in the transport industry and have established strong, long-term partnerships with both customers and fellow carriers across Canada and the U.S. With thousands of loads successfully delivered safe and on time, we have built a reputation for reliability and professionalism. Just like the family members that built this company, we treat every single one of our customers like a member of our family and every single piece of freight as if it were our own.
When considering your next shipment…if you're looking for a transportation company that will provide you some peace of mind that your freight is in good hands and delivered on time, contact us. We've got you covered…that's our job. If you're looking for a company that will partner with you for the long-term and focus on implementing strategies to save you money, that's where you'll find the difference of working with Brave Transport Inc.!
WHAT WE DO
When we first started, the majority of our customers were based in Quebec, so we would ship from the Eastern Townships or Montreal to basically anywhere in Canada or the U.S. Then, over time, when we started to deliver to more consistent areas, we began making connections throughout Canada and the U.S., letting customers know the areas we covered and the types of equipment we operated.
Through learning more about our customers and the types of equipment we would require in order to transport their full range of freight, we started adding to our availability to accommodate different dimensions and weights. With time, in order to increase equipment availability and geographic coverage, we started developing partnerships with fellow carriers who operated specific areas. This allowed us to continue serving our customers' growing demand without sacrificing availability or raising prices.
For long-haul transport and flatbed trucking, our available equipment consists of:
Flat Bed
⦁ Length: 48' or 53' / Width: 8'6" / Height: 8'6" / Max Weight: Varies (Canada / U.S.)
Drop Deck (Step Deck)
⦁ Bottom Deck – Length: 37' – 42' / Width: 8'6" / Height: 10' / Max Weight: Varies (Canada / U.S.)
⦁ Top Deck – Length: 10 ' – 11' / Width: 8'6" / Height: 8'6"
Low-Profile Step Deck
⦁ Bottom Deck – Length: 37' – 42' / Width: 8'6" / Height: 11' / Max Weight: Varies (Canada / U.S.)
⦁ Top Deck – Length: 10' – 11' / Width: 8'6" / Height: 9'6"
Double Drop (RGN)
⦁ Bottom Deck – Length: 28'' – 29'6" / Width: 8'6" / Height: 12' / Max Weight: Varies (Canada / U.S.)
(**Front of trailer detaches, to allow machinery to be driver straight onto the bottom deck**)
⦁ Front Deck – Length: 10' – 12' / Width: 8'6" / Height: 8'6"
⦁ Rear Deck – Length: 8' – 13' / Width" 8'6" / Height: 10'
Dry Van
⦁ Length: 48' or 53' / Width: 8'5" / Height: 8'6" – 9'2" / Weight: Varies (Canada / U.S.)
Roll-Tite / Conestoga (similar to van, but with accordion tarp system – ideal for side or crane loading)
⦁ Length: 48' or 53' / Width: 8' – 8'5" / Height: 8'6" – 9'2" / Weight: Varies (Canada / U.S.)
**Specialized Equipment: We have customers who have large orders that may require a longer deck, multiple axles, higher dimensions, etc. We have access to additional equipment upon request**
WHY US?
We realize that there are a number of transport and brokerage companies out there to choose from, which is exactly why Brave Transport Inc. is capable of offering the best of both worlds. We are an asset-based company, so we know our drivers and our equipment better than anybody. Depending on our customers' needs, we will always provide the ideal equipment and most cost-effective solution available.
We strategically partner with small-size carriers in every province across Canada, in order to provide extra geographic coverage and equipment availability. The reason we do this is so that no matter when our customers need to ship or arrange an inbound shipment, we have the equipment available as soon as possible. By partnering with select carriers, our customers don't need to rely on brokerage companies and we build mutually-beneficial relationships with our partner carriers in order to ensure each other's customers are always taken care of.
Just a few benefits of trusting Brave Transport Inc. with the transport end of your business:
⦁ Communication – when you call in, you speak directly with owners of the company⦁ Asset-based – we deal directly with our drivers and understand the business
⦁ Very reachable – dispatch, sales and management available 24/7
⦁ Expertise – come to us with any questions, we'll find the best available solution
⦁ Equipment availability – wide range of equipment at your disposal, depending on your needs
⦁ Versatility – ability to ship LTL, full legal loads and/or over-dimensional
⦁ Multiple offices – Quebec and Ontario offices for closer proximity to customers
⦁ Carrier partnerships – more coverage, more availability – without the high brokerage fees
⦁ Strong insurance coverage – your freight is covered and safe with us
⦁ Experience – our drivers have been doing this for well over 20 years (especially oversize)
⦁ **Freight consolidation – if your freight doesn't require the whole trailer, we'll match it with another customer's freight to provide you the best possible price!